Hobbies

Jeg har altid godt kunnet lide at lave noget med hænderne,
Jeg skulle helst selv at finde på ting og realisere dem ... at creere noget, som det vist hedder i dag...
lave noget .... stoffer, garner, parpir, ting og sager - næsten lige meget hvad - kan bruges...
Her er nogle af de mange ting, jeg i årenes løb har lavet.

Mi è sempre piaciuto creare delle cose cose le mani - e se possibile anche disegnare le realizzazioni. Uso tutti tipi di materiali .... tessuti, lane, fili, carta, plastica... tutto ciò che può accendere la mia fantasia! Qui sotto alcune delle tantissime realizzazioni creati duranti tanti anni.


Since I was a child I've always created something with my hands.
I've always preferred design and create the things myself. I use all kind of materials which inspires me... fabrics, yarn, strings, paper, plastic,... every thing that's able to lit my fantasy.
Below you can find some of the things I've created during many, many years.
---
A Heart for Valentine's
Un cuore per San Valentino

Mormor Mette

Nonna Mette

Grandma Mette

Due Esse 25.07.2014
Effe Elle 20.07.2011
Knittingmette's Free Patterns to download
Halloween Knit Along - HW-KAL 2008


(When I've got an idea.... I must work it out!)
Do you think you'll knit along with Gary?
You're wrong....
Please, read more and find out.......
---
---
---

Puoi vedere e comprare alcune delle mie creazioni su knittingmette.etsy.com


Du kan se og købe nogle af mine nørkleriger på knittingmette.etsy.com


You can see and buy some of my crafts on knittingmette.etsy.com
---
---
---
Hækling ... Bedste lærte mig at hælke

Uncinetto

Korssting ... Mormor lærte mig at brodere - især korssting

Punto croce


Strikning ... hun lærte mig også at strikke

Maglia
OL-Knitting 08.08 - 24.08.2008
KAL (Knit A Long): Monthly Dishcloths


Illusion-Knitting!


My Mystical Illusion Class


Webstrik's 2007 KnitAlong


Patchwork ... har jeg lært mig selv ved at se andres arbejder

Patchwork

Andre ting ... her kommer nogle forskellige ideer

Diverse cose...

Hakning

L'uncinetto tunisino

Tunisian Crochet

Teabagfolding

Min side: Baby-sokker
"We are knitting the longest laundryline of baby socks in the world"
Juleideer


Idee per Natale



Il mio Hobby-ring - Min Hobby-ring - My Hobby-ring
Afsluttede ting:

Jeg er med i Knit_OL!


Min Knitting-OL-Along-side - La mia pagina del Knitting-OL-Along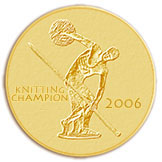 Min dogme-along-dagbog....

un dogme-along
The Beatles: A Taste of Honey
Data di composizione di questa pagina: 10 agosto 2005