Lille serviet som blev syet i børnehaven i Forstallè i Aabenraa! Jeg bruger den stadig!


Tovaglietta che ho ricamato nella scuola dell'infanzia! La uso ancora!


Little cloth which I embroidered in the kindergarden! I still use it!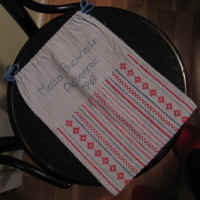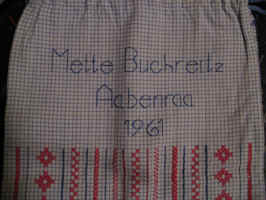 Her er en pose, som blev syet i 1961 paa Lilleskolen (Skolen bag Raadhuset) i Aabenraa. Så vidt jeg husker, skulle vi bruge den til vores gymnastikdragt og senere - paa Nygade Skole, Aabenraa -syede vi en dragt i blåt bomuldstof: korte buxer med elastik i benene kan jeg huske! og en bluse uden aermer, syet dels paa gammeldags Singer maskine dels i hånden!.... Nu bruger jeg posen igen - til strikketøj!




Ecco un sacchettino che ho ricamato a scuola nel lonato 1961... credo servisse per portare a scuola i vestiti per la ginnastica ...ora lo uso per il lavoro di maglia

This sack was made in 1961. As far as I remember we brought our gym-clothes in it.. now I use it for my knitting work!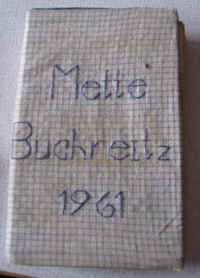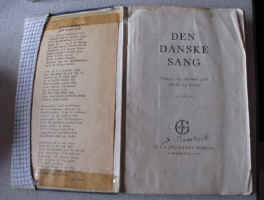 Bogomslag til min sangbog! Hvad fandt man dog ikke på! ;-)

Copertina per il libro degli inni e canzoni che era in uso in ogni scuola per il raduno mattutino! Una bella tradizione che manca in Italia!

Book cover to my psalm and song book which was in use during the morning assemblee in the Danish schools!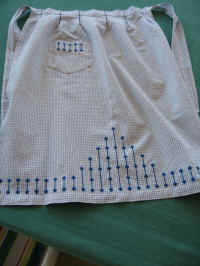 Her er et forklæde jeg har syet i underskolen, kunne tænke mig i fjerde - femte klasse.

Ecco un grembiule che ho ricamato e cucito in quarta o quinte elementare.

Here is an apron I embroidered and sew in grade four or five.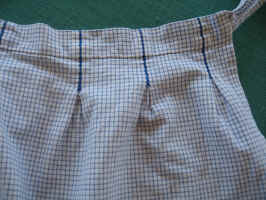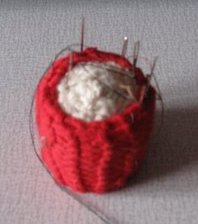 Denne nålepude er nok noget af det allerfoerste jeg har strikket Det er bare et langt baand, der er rullet sammen.

Questo punta spilli è uno delle prime cose che ho fatto a maglia nella scuola elemtare. E' una striscia lunga che poi si arrotola.


This little pincushion is one of the very first things I knitted. It is just a long ribbon which was rolled up!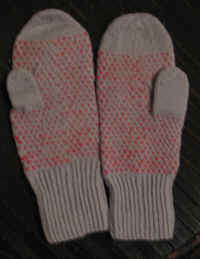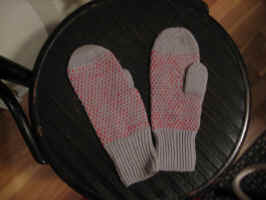 Mine første vanter med lus.... nok fra femte klasse - de blev da meget paene, ikke?


Le prime muffole... probabilmente dalla classe quinta.


My first mittens... I think I knitted them in the 5th class.