Halloween Knit Along
by Mette Buchreitz - knittingmette - 2009
This Halloween KnitALong will take place October 26th though 31st 2009.
Thanks to everybody who will take part .... and have fun!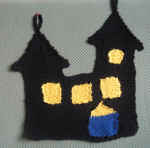 Few days ago Morticia Addams told me about her new project and as she knew about the success with the KAL I organized in 2008 with her pattern, she asked me if I want to organize a KAL again this year. I had no doubt, so I asked her to send the pattern. And so she did so now I have the pattern and I'm preparing every thing. She told me that it is a washcloth for Gomez as last year.If you would like to knit along with us again, I can tell you that you should prepare:
neeedles number 3,5 mm - or use what you normally do and what goes with your cotton
Yarn: cotton for washcloths in black, yellow and blue (or brown, or other dark colour)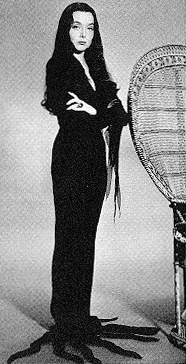 Day One
Skill level: Easy
Yarn: use what you normally use to make wash- and dishcloths.
Colours: black, yellow, dark red/brown/blue
Other materials: yarn needle
scissors
Needle size: E-4 / 3.5 mm
Gauge: is not important in this project
Pattern Notes
The numbers in the () show how many sts on each needle.
Tip to start all rows: purl the first st, pull the yarn kindly, then k across.
I-cord knitting here: *k2, sl sts back to right needle*, rep *-*
Stitches - knit: CO (cast on), BO (bind off), k (knit), p (purl), ppso (pass purl stitch over), rep (repeat), *-* (rep from * to *)
PART ONE
CO50 with black
Rows 1 - 3: k
Row 4: k10, BO12, k across
You have now two groups of sts
Group 10sts: rows 5 - 22: k
Row 23 - above the BO - kfb1, k across (11)
Row 24: k to last st: kfb (12)
Row 25: kfb1, k across (13)
Row 26: k to last st: kfb (14)
Row 27: kfb1, k across (15)
Day Two
Now cut the yarn and k group of 28 sts the same way – with the inc above the BO. You have 2 groups of sts (15+ 33) which you join CO2 between (15+33+2=50)
Rows 28 – 31: k
Row 32: k8, BO8, k4, BO8, k4, BO8, k8
You have now 4 groups of sts (8 – 5 – 5 – 8)
Rows 33 – 46: k 14 rows on each group
Day Three
Row 47: k8, CO8, k5, CO8, k5, CO8, k8 (50)
Rows 48 – 53: k
Row 54: k16, BO18, k16
Group one: rows 55 – 60: k
Row 61: CO4, k across (20)
Row 62: CO4, k across (24)
Row 63: p1, k1, ppso, k across (23)
Rep row 23 until 2 sts back
Then make an about 7 cm / 2,76" long I-cord: *k2, sl back on left needle* (in stead of pushing a double pointed needle).
BO
Day Four
Group two: rows 55 - 60: k
Row 61: k5, BO6, k5
K 8 rows on each group (rows 62 – 69)
Row 70: k5, CO6, k5 (16)
Row 71 – 75: k
Row 76: CO4, k across (20)
Row 77: CO4, k across (24)
Row 78 – and all rows until 2 sts: p1, k1, ppso, k across (23)
Then make an I-cord as above.
Day Five
Well, now you've surely understand what Morticia knitted to Gomez! So now youll get the last pieces:
Door
CO12 with dark brown/red/blue
Rows 1 – 16: k
Row 17 change to yellow: *k1, p1*, rep *-* across
Row 18: p1, k1, ppso, k across (11)
Rop row 18 until 2 sts back
BO

Window – make three
CO8 with yellow
Rows 1 – 14: k
BO
Tower window
CO6 with yellow
Rows 1 – 8: k
BO
Finishing
Join the door and windows into the holes of your house.
Bend the I-cord and fix on the roofs – that makes a chimney-hanger ;-)
Thank you very much for taking part in this KAL.
I hope you enjoyed it!
I'd be happy to see your house and add it here in my photo-gallery - if you want too, please, send me a picture to
m (dot) buchreitz (at) gmail (dot) com
.
Data di composizione di questa pagina: 21.10.2009