Jimmy Boy
07.10.2006

Jimmy is my first little boy doll in the "Knitted babes"-family. He is smaller thar the other dolls.
He got a jumper made of my leftovers, a pair of shorts and some nice small shoes.
His hair is knitted.
Hair

Cast on 7 sts with the yarn you choose for the hair.
Knit st in st.
Row 1 - 2: K7
Row 3: K4, turn
Row 4: K4 backwards
Repeat these 4 rows about 8-10 times, until the piece goes around the head.
Cast off and join the cast-on row to the cast off row, draw a piece of yarn round the middle of the hair and pull. Fasten yarn.
Pin the hair on the head, when it suits you, fix et with some sts.
Jumper
Cast on 30 sts on 3 doublepointed needles (10+10+10).
Knit 2 rounds rib (K1, P1), go on 12 rounds.
Cast off 4 sts, K11, cast off 4, K11.
Knit the front- and the backpiece on each own. Work 10 rows. Cast off.
Sleeves: cast on 20 sts
Knit 3 rows, go on st in st as long as you want to makethe sleeves. Cast off.
Shorts
Cast on 30 loops and make a basic row. Go on with TSS for 8 rows.
Make the legs with 12 sts for 9 rows leaving 3 sts between them.
Make a belt a piece of yarn you draw thorugh the basic row and make a knot.
Shoes

Cast on 6 sts, knit st in st for 10-12 rows or as may as you need to pass the piece around the foot. Cast off.
Join the cast on row with the cast off row, and sew also one of the end of this tube (sole). Sew the shoelaces over the joining line. Make onther shoe.

To put on the shoes:
draw a crochet hook through the sole and up through the book, fix the foot on the hook and draw down. That's all!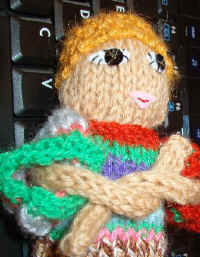 The Beatles: A Taste of Honey
Data di composizione di questa pagina: 07.10.2006