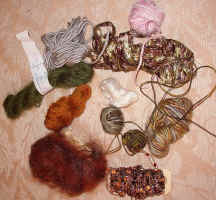 I sent off 10 small balls of yarn and here you can see what I got back!

Ehmmmm... it was not easy to make something, but in my head I had an idea of some kind of a bag... but I wasn't able to start....

During a visit to Denmark in the beginning of March 2007, I met a Annette, a "web-knitter" (a friend from my Danish knitting group) ... we exchanged presents ... and I was so lucky to get to very nice balls of green yarn.
Facts about the bag:

1. All the things I used to make this bag were gifts, unless the yarn for the mobile pocket which was a left-over of the yarn I sent to the SWAP.
2. I used up ALL the yarn except the "mohair"...
3. I got the buttons (two big and a smaller one) from a friend last summer (there are about 40-50 years old)
4. The green beads are a gift from my daugther
5. I worked without pattern ... "free forming" out of my head. Some day I may write down the pattern!
hej ff-piger,
jeg ville bare lige fortælle, at endelig jeg går rundt og promenerer med min flotte FRIENDSHIP-BAG, som jeg kalder den.
tasken er lavet udelukknde af ting, jeg har fået foræret.
den er free form dog uden at være overdækket af scrumpels.... jeg "måtte" ikke bruge andet garn (se nedenudner) ...
den består af
1. garnet fra vores efterårs-SWAP, dog ikke noget brunt mohairgarn, som jeg altså ikke kunne få indarbejdet (nok fordi jeg ikke er så meget for mohair) - dertil kommer, at jeg har brugt lidt garn af det, jeg selv havde sendt til swappen.
da jeg havde lavet mig den regel, at materialerne skulle være ting, jeg IKKE have købt men fået foræret, kunne jeg jo ikke lave scrumples til at dække del hele, men jeg har brugt alt op, dvs jeg har arbejdet med en tråd til der ikke var mere af den!
2. to nøgler garn jeg fik i billunds lufthavn af webstrik-Annette (basisgarn for tasken i tunesisk hæklning)
3. 6 perler jeg fik foræret af min datter, da hun havde været i New York i januar
4. 3 sjove gamle knapper, som jeg fik foræret sidste sommer af en veninde.